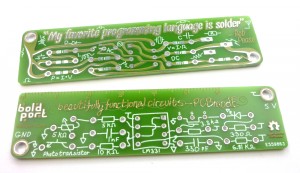 He writes:
Don't know whether you have seen these lovely PCBs. I love them!
The legend says "My favourite programming language is solder", and the PCB is "described as great board to learn and experiment with soldering"…
BoldPort carries this description:
This is a unique printed circuit board functional art piece – a tribute to Bob Pease, an analogue design guru who died in 2011. The board has a quote and integrated circuit (LM331) for which he is known. This circuit board can be populated with components to create a light-sensor, as is demonstrated in [the video below] (note that only the bare board is supplied with the order).

This board has pads for both through-hole and surface mount components and could be a great board to learn and experiment with soldering. The circuit diagram is drawn on the back of the board for a convenient reference. It is also small enough to be used as a keyring (a ring will be added to the packet), and has a handy 6 cm ruler on the bottom side.
Dimensions are 80 x 20 x 1.6 mm, and they will cost you £8.
httpv://youtu.be/O8qIpbn4Dds
See our news article reporting his death – Bob Pease dies
Steve Bush writes:
Known latterly for his magazine column Pease Porridge, his appearances at National Semiconductor analogue seminars, and hosting panels at technology conferences, he was also the designer of many ICs including the LM331 voltage-to-frequency converter and the LM337 adjustable negative voltage regulator.

He epitomised the old-school analogue IC designer who understood every tiny characteristic of the bipolar transistor and the maths behind them. Squeezing precision performance from simple circuits was second nature.