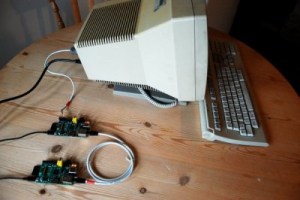 The power of the Pi… Check out this post on the Design Spark blog about a pair of Raspberry Pi computers emulating VAX computers (MicroVAX 3900 hardware), which can then be configured to form a VMScluster…
The Gadget Master behind this, Andrew Back, says the project was just for fun, but the more serious purpose was to "show how the Raspberry Pi can be combined with open source software such as SimH for use in computer conservation, and to provide museums etc. with the basis of a low cost demonstrator for classic computer architectures".
He had previously emulated a formidable IBM mainframe, by the way – the IBM 4381! he also points out that OpenVMS is still running many a critical mission workload today.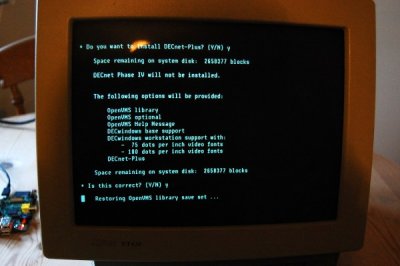 Andrew Back writes:
Emulation of the VAX hardware has been made possible by a pretty amazing piece of software called SimH. In order to be able to run OpenVMS on this a licence is required, but fortunately these are available free of charge via the OpenVMS Hobbyist programme.

The SimH software is configured to emulate a MicroVAX 3900 with 64Mb of memory, 1.5Gb disk and a CD-ROM drive. An ISO file containing an image of the OpenVMS installation media is attached to the virtual CD-ROM drive and the emulator is booted. The steps to install the software are reasonably simple and the image below shows part of the installation process.
Read the full post – there are loads of pics >>
Just to flag an interest here – Design Spark is the sponsor of Gadget Freak, I'm, pleased to say, but we would have covered this story anyway – there is loads of good Gadget Master material on the site's blog.