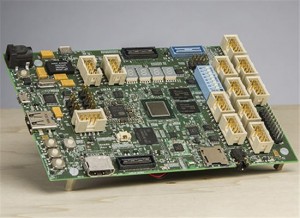 Imitation is the sincerest form of flattery they say, and it's a tribute to the impact of the likes of Arduino and Raspberry Pi that Microsoft is now offering an equivalent development board.
Sharks Cove – the product of a partnership between Microsoft, Intel and CircuitCo – is a pocket-sized (6in x 4in) Windows-compatible devkit. It's an interesting, if pricey, development. Based on an Intel Atom Z3735G processor, and running windows 8.1, it is also compatible with Android.
Specifically, it intended to help develop hardware and drivers for Windows and Android, but you can also think 'appcessories'. With support for a variety of interfaces – including GPIO, I2C, I2S, UART, SDIO, Ethernet, mini USB, USB, and MIPI for Display and Camera – the target usage is Intel based tablets and mobile devices…
You can read more about it on Microsoft's Windows Hardware and Driver Developer Blog, and www.sharkscove.org has been created as the destination point for more information.
Michael Fourre, a developer in Microsoft's Driver Developer Experience team, writes on the blog:
At $299, this is a board that we believe will find a home with Independent Hardware Vendors (IHVs) and hardware enthusiasts alike. That price not only covers the cost of the hardware, but also includes a Windows 8.1 image and the utilities necessary to apply it to the Sharks Cove. When you additionally consider that the Windows Driver Kit 8.1 can pair with Visual Studio Express and are both free with a valid MSDN account, the initial outlay for Windows driver developers is a lot less cost prohibitive than it once was.

We've also been busy posting content related to the Sharks Cove, settling into our new MSDN development-board Forum, and the launch of this blog. Our goal is to ensure information is easily found and we have multiple ways to interact with our community.
Distributed by Mouser Electronics, pre-orders of Sharks Cove are being taken now, and the unit is priced at £192.99
Specification of Sharks Cove
Processor

Intel ATOM Processor Z3735G , 2M Cache, 4 Core, 1.33GHz up
to 1.88GHz

Memory
Display
Expandability

Qty. 12 (5X2) Shrouded Pin Header connectors:

Qty. 1 (2X10) Header for Sensors

Qty. 2 60 pin MIPI Connector for Display and Camera

Qty. 5 (2×2) Pin Headers for Power

1 USB 2.0 type A Connector for expandability to hub for KB/Mouse,
connectivity

1 micro USB type A/B for debug

Audio

Audio Codec Realtek ALC5640

Stereo headphone Jack 3.5mm

Headers for Speaker output and Onboard Digital Mic

Connectivity

Ethernet or WiFi through USB

Additional Features

Power, Volume Up, Volume Down, Home screen and Rotation Lock

1 micro USB type A/B for Power

SPI debug programming header

Form Factor

4 inch X 6 inch type 3 board with 4 stand-offs
What are your thoughts on Microsoft's Sharks Cove. A welcome devboard addition for Microsoft-oriented developers? Leave a comment below.
[Via Ars Technica]