"Simply press the bttn and your Magic Happens" is the slogan. While you may not be able to initiate WWIII with the press of a red button you will be be able to fire off certain Internet-based actions…
But what, exactly? The company, The Button Corporation, gives some examples:
"When a 6-year old daughter presses the bttn in the front hall, Daddy's cell receives the SMS message "I am home! Emily (via button)".
"Or when a shopper chooses a red button over green button when leaving a store, the customer satisfaction survey system's negative feedback counter is incremented by one."
"Or when at a warehouse a pallet is ready to go, the pick-up bttn is pressed, and the logistics company receives a notification to send in a van."
"Or, create the coolest doorbell, or the ultimate pizza-ordering device, just to impress your friends."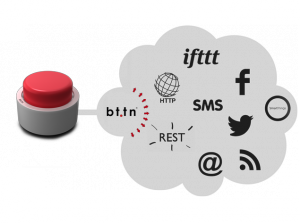 You get to the Internet via either a mobile data or a Wi-Fi version of the bttn.
Using cellular data, any micro SIM card with a cheap data plan will do, says the company.
Shipping in October, you can pre-order it now for €69.
The Button Corporation is a Helsinki-based company, and on their website you can read a little vignette of the company's creation:
Two years ago two guys were sitting at a restaurant terrace in Helsinki, Finland. They wondered why – in the otherwise ready-made world – there were no action buttons at the tables, which could be used to signal waitresses. At the same time, one of them shared his worry about how he could help his 75 year old mother, living alone in her house, to make it day-to-day. One of those guys was Harri [Rautio, CEO], who then started The Button Corporation about a year later.
[Via Gizmag]