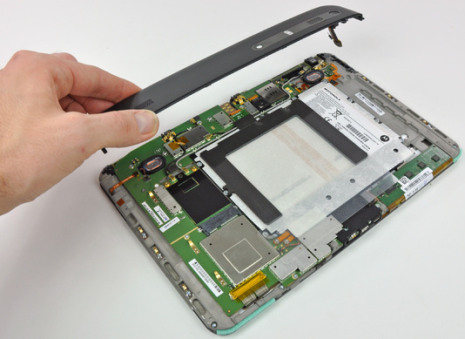 We like teardowns on Gadget Master – see the MacBook Air, Sony VAIO Z Series laptop or a NiMH battery charger – and here is one for Motorola's latest, Android 3.0-based tablet, courtesy of iFixIt.
As a reminder, the website summarises the technical features of Motorola's answer to the iPad:
1 GHz Cortex-A9 Dual-Core Processor
5.0 MP rear-facing camera with HD video recording and a 2.0 MP front-facing web cam
Up to 32 GB of on-board storage.
10.1″, WXGA 720p (1280 x 800) display.
3G connectivity, with optional upgrade to 4G LTE
Gartner is also providing a full technical teardown of the Xoom, but this would cost you $2,495.
According to Gartner, these are the key Findings:
Gartner estimates a total material cost of $330, which accounts for 41.3% of the Xoom MZ600's (third generation [3G] code division multiple access [CDMA] version) selling price of $799. The semiconductor parts in the Xoom total $163.20, which equates to 20.4% of the selling price.
The Xoom's printed circuit board (PCB) has 3G and Wi-Fi functions, but does not use a modular design. It also includes most connectors, removing the need for flexible printed circuits (FPCs). However, this means the Xoom's (PCB) cost is almost half of the total material cost.
The Xoom has four sensors, including a barometer, which is the first ever in a media tablet.
The Xoom includes a dummy Peripheral Component Interconnect Express (PCIe) mini card, antenna and cabling for a later upgrade to Long-Term Evolution (LTE) communication.
Motorola has focused on the computing/graphic performance and a design that allows better reliability and serviceability, rather than using smaller parts and component placement to create a thinner device.