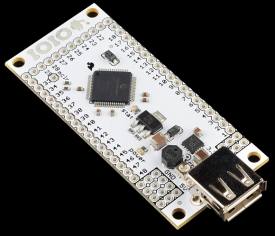 Time for another competition! The theme we are taking for this one is Google's Android platform. So, taking a cue from a previous Gadget Master post – Android phones hack their way with IOIO breakout  – let's have an Android related prize!
The IOIO board (pronounced "YoYo"), from SparkFun, is an easy way to get I/O from an Android smartphone's USB connection (OS versions 1.5 and greater). The board uses a Java API to hook into your phone's app, and this means you can extend the functionality of the phone out to external sensors and controls! It would set you back $50 online dollars to buy.
Here's the January/February compo!
The prize question:
As always, we'll keep the format familiar and straightforward: correctly answer this question for a chance of winning the IO board.
The recent Android advances to centre stage featured a number of posts touching on the Android platform. But which one has an image containing the text "Droid 1 Activity"?
Once you know the correct response, just email competition@electronicsweekly.com stating the title of the blog post that has the correct image in it.
The competition closes end of play Friday 24 February.
Good luck!