The MicroView is described as the first chip-sized Arduino compatible OLED display that lets you see what the devboard is thinking! As well as serving as a debug aide, it can act as a mini display in its own right.
The creators write:
In addition to the built-in tutorials, we've also built a cross platform course that runs on iPad, Microsoft Surface and modern Web Browsers on Windows, Mac and Linux. The course takes you step by step through building a 11 different circuits including:

Blinking LEDs and creating different colours on an RGB LED.
Getting readings from a potentiometer (a fancy name for a knob).
Taking the input from a push button.
Sensing Temperature and Light
Controlling actuators relays, motors & servos
Making sound
For manufacturing and shipping they've teamed up with SparkFun.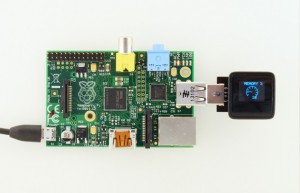 General specs
Support for the Arduino™ IDE 1.0+ (OSX/Win/Linux)
100% Arduino™ Compatible
Built-in 64×48 OLED display
Direct 3.3VDC – 16VDC power input, no power regulator needed
Standard DIP Package
Breadboard friendly or direct solder
Hardware specs
Display: 64×48 OLED Display
Microcontroller: ATmega328P
Operating Voltage: 5V
Input Voltage: 3.3VDC – 16VDC
Digital I/O Pins: 12 (of which 3 provide PWM output)
Analog Input Pins: 6
Flash Memory: 32 KB
SRAM: 2 KB
EEPROM: 1 Kilobyte
Clock Speed: 16 Mhz
With 27 days to go, at time of writing, 1,320 backers have already pledged $101,567 against their original goal of $25,000.
Talking of Arduino, there's also EasyPlug, an easy to use Sensor Shield for Arduinos.
The creators write:
All of our sensors are designed to be easy to use, right out of the box. Plug in a cable (provided) and the sensor is ready to go. We've picked the most useful and fun sensors for you. But we're adding more all the time, so you should be able to find a sensor to fit your needs.
Features:
6 analogue sensor inputs.
Compatible with evergrowing list of VERVE sensors
Sensors are optimised for performance
Sensor circuit protection
No extra code to learn. Uses standard "analogRead(pin#)" command that most users are familiar with.
Uses any 3.5mm stereo cable, but we have found great flexible and colourful cables.
Sensors boards have mounting holes
6 unique coloured cables so sensors are not confused
Stackable with other shields
No soldering
With 39 days to go, at time of writing, 93 backers have already pledged $4,321 against the original goal of $8,000.
Or how about The Dash, wireless in-ear headphones?
Safety and the ability to communicate with others are important. In addition to being earphones, the Dash will double as a Bluetooth Headset delivering clear voice quality through the embedded ear bone microphone. The ear bone microphone is not sensitive to background noise, since it picks up mechanical vibration generated by your voice from the ear bone.

Even though The Dash provides impressive noise isolation, the wearer can choose to channel ambient sound into the headphone with the transparent audio feature. A swipe on the capacitive touch surface of The Dash will enable or disable ambient sound to pass through.
Speaker
Type: In-Ear Style, double barrier passive noise isolation
Response bandwidth 20-20000 Hz
Impedance 16 Ohm
Output 10 mW RMS (with level limit)
Total harmonic distortion <2% (1 KHz, 1 mW)
Audio format: 16 bit stereo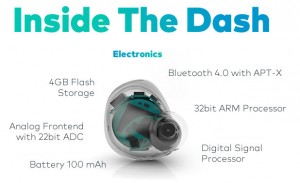 Microphone
Custom Bragi Ear Bone MEMS microphone
Ambient microphone: MEMS omnidirectional, Sensitivity -43 dB +3/-3 dB (1 KHz, 0 dB = 1 V/Pa)
Bluetooth
Dual Mode Bluetooth 4.0
Audio compatibility with classic Bluetooth devices (A2DP profile, CSR aptX® audio codec)
Full compatibility with Apple: iPhone® >= 4S, iPod® Touch 5th generation and later, iPad® 3rd generation and later
Full compatibility with: Android: any device with Bluetooth LE hardware running under Android version 4.3 Jelly Bean (API Level 18) or later
Full compatibility with: Windows Phone: any device with Bluetooth LE hardware support running under Windows Phone 8.1
True Wireless Audio
CSR aptX® audio codec
Up to six paired devices (One at a time)
Bluetooth sound overrules embedded playback
Embedded music player: 4GB data storage. MP3, AAC (No DRM)
With 10 days to go, at time of writing, 14,047 backers have already pledged $2,969,571 against the original goal of $260,000.
Should also mention Neil Young's Pono Player, too. This is finding its way into the world via KickStarter. A canny way to build anticipation and publicity, I guess, rather than a pressing need for funding itself…
With 26 days to go, at time of writing, 12,970 backers have already pledged $4,378,156 against the original goal of $800,000.
Previous Crowdfunding Watch posts