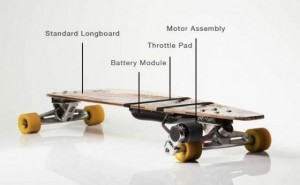 Joe Carabetta, a Purdue University nuclear engineering student, has successfully taken his project, dubbed Kickr, to KickStarter (suitably enough). Last year he successfully funded his project, raising $33,643 against his pledge goal of $15,000.
In a nutshell, Kickr is described as "a modular, patent-pending, precision-machined, non-obtrusive electric drive train that is compatible with almost any board".
Note that he is not the firest in this space. See also – DIY customisable electric skateboard (the LaGrange L1 Kit)
Anyway, he says the KickStarter funding will mainly be devoted to selection and testing of the battery and how best to integrate it. He also wants to finalise the design and test of the throttle/motor control electronics.
Specifications
Quick install and removal
20 miles per hour
1100 Watts
6 mile range between charges
2 hour charge time
< 5 lbs. Weight
Lithium-ion battery pack
CNCed from stainless steel and aircraft-grade aluminium
What it comes with
Battery enclosure – Attaches to board via a custom strap
Motor assembly – Mounts on truck axle (in place of one nut)
Throttle pad – Motor thrust is controlled by a sensor located on the strap
Quick battery charger
How fast can it go? Apparently it can reach 20mph, and can idle at any speed.
Which longboards will it work with? He says Kickr will work on the "large majority of longboards with standard 5/16-24 axles and 2.25 inch clearance" underneath the board.
httpv://youtu.be/r6igaL4q1FI