Coming out of the recent Google I/O event (which heralded a major new version of Android, of course), there's a low-fi approach to building an Android-compatible VR headset. Check out Google Cardboard.
The idea is to "construct a VR viewer from everyday items you can find in your garage, online or at your local hardware store".
How did the Cardboard project start?
David Coz and Damien Henry at the Google Cultural Institute in Paris built a cardboard smartphone housing to prototype VR experiences as part of a 20% project. The results elicited so many oohs and ahs that they inspired a larger group to work on an experimental SDK.
What do you need to get started?
Cardboard – "Corrugated cardboard sheet, preferably E Flute (corrugated cardboard comes in a variety of thicknesses called "flutes"), available at many art supply stores and online."
Lenses – "This is the trickiest component. Lenses that have a 45mm focal distance might work. Biconvex lenses work best because they prevent distortion around the edges. We used the Durovis OpenDive Lens Kit available here (US) and here (EU)."
Magnets – "One neodymium ring magnet – like this or this – and one ceramic disk magnet – like this or this. Approximate size: 0.75in (19mm) diameter and 0.12in (3mm) thickness."
Velcro – "Two strips of regular strength adhesive-backed velcro. Approximate size: 0.75in (20mm) by 1.25in (30mm)."
Rubber band – "One rubber band, to prevent the phone from sliding out. Minimum length of 3.2in (8cm)."
NFC tag (optional) – "One sticker NFC tag. Program it with the URL cardboard://v1.0.0"
You'll also need a ruler, glue, and scissors, an X-acto knife, or access to a laser cut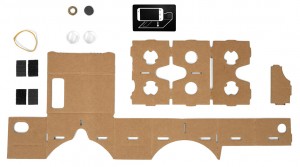 Thanks to Sue P. for highlighting this one, and the report on Gizmag.com
Will Shanklin writes:
While Google's focus, as is often the case, is on this open and inexpensive solution, this could actually be a pretty savvy long-term business move. Facebook's Oculus and Sony (along with, most likely, many other companies with unannounced projects) are soon going to be duking it out for the early lead in virtual reality, but Google is trying to sneak in through the backdoor. The company could use a) its massive Android userbase and b) the dirt-cheap nature of this project, to quickly establish Android as a hotbed for VR software.
I like one of the comments, which refers to "Oculus Thrift"!
Fantastic or Flakey? What do you think of Google's low-cost, cardboard-based approach to Virtual Reality headsets? Leave a comment below.