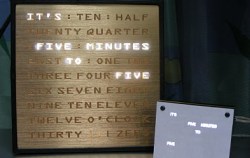 How cool is this? It is an Arduino project dubbed The Worduino, from the excellent WyoInnovations blog.
Basically, it is a clock that tells the time in highlighted words rather than the traditional dial.
You can see some pictures of the big and little word clocks and there are full instructions for assembly, in PDF form.
Anool writes:
The WORDUINO Word Clock kit is based on a design by Doug Jackson (Link), hacked, modified and improved by Justin and Anool. It is based on Arduino platform, and uses an ATMega AVR Microcontroller. The WORDUINO Word Clock indicates time using a set of words. A group of LED's located behind the face plate light up individual words to indicate time such as :: "IT'S TEN MINUTES PAST FIVE".
It is an open-source hardware+software project, and design files, source code, and support is available via email, supplied in the instructions.
The Word Clock consists of the following sections:
• Main Board (Clock Board)
• Display Board (LED Board)
• Baffles
• Front Face Plate
• Housing (not included)
• Wall Wart – 12V DC output, 1A (not included)
You can read more about the history and design of the clock on the site Doug's Word Clock. He also shows pictures of one of his clock modules, mounted in a craftwood frame hanging proudly on his dining room wall (see below).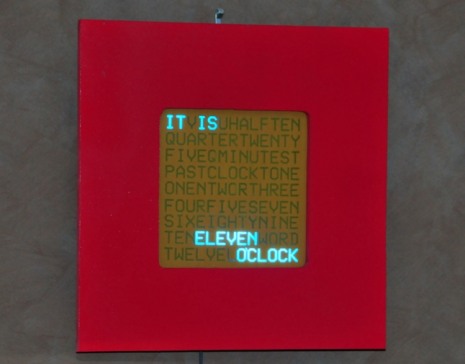 Keen to share his excellent creation and support fellow constructors, he writes:
My focus is on helping you create your own Word Clock, but if you are not able to solder components, I am very happy to provide complete clock modules that just need to be mounted your own craftwood enclosure, and you can have your own personally customised clock.

The Word Clock is fun to make, whether you are making your own from scratch, building a kit, or making an enclosure for one of my complete clocks. And – finally, there is one thing that is for certain – it is a focal point of any room.