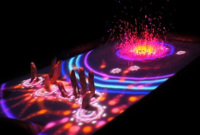 Apparently, the University of Electro-Communications in Tokyo has prototyped an interactive touchscreen on the surface of water in a bath.
Dorothy Tan writes:
Designed to provide digital entertainment during bath time, where users do not have to worry about damaging their smart devices with water, the system that makes the "Aquatop" possible consists of a Kinect camera mounted over the tub, a projector, some waterproof speakers and a PC.

By dipping their fingers into the water, users turn their digits into cursors that can be used to play games, organise photographs and watch videos on this innovative touchscreen.
No sniggering at the back!
It's worth watching the video below:
httpv://youtu.be/6lyudeTqggE
According to the video, credit should go to:
Yasushi Matoba
Yoichi Takahashi
Taro Tokui
Shin Phuong
Hideki Koike
Graduate school of Information Systems, The University of Electro-Communications