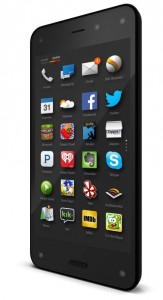 Mention must be made of the Amazon phone, dubbed the Fire. Amongst other things, writes Steve Bush, one-handed gestures can be used for scroll, tilt and swivel navigation.
Four front face image sensors and four infra-red LEDs form the physical interface, and inside are a dedicated custom processor, real-time computer vision algorithms, and a graphics rendering engine, said the firm.
Gesture recognition is part of something it has branded 'Dynamic Perspective'.
"Dynamic perspective uses a new sensor system to respond to the way you hold, view, and move Fire, enabling experiences not possible on other smartphones," claimed Amazon, which is providing a dynamic perspective software design kit (SDK).
Image sensing also plays a part in something called Firefly, which auto-recognises web addresses, email addresses, printed phone numbers, QR codes, bar codes, printed text on signs, posters, magazines and business cards. "Make a call, send an email, save as a contact, or go to the website without typing out URLs or email addresses," said the firm.
"Later this year, Firefly will include artwork recognition, foreign language translation, and wine label recognition," said Amazon.

The phone's hardware includes a 2.2GHz quad-core Qualcomm Snapdragon processor with 2Gbyte of RAM and a choice of 32 or 64Gbyte of flash.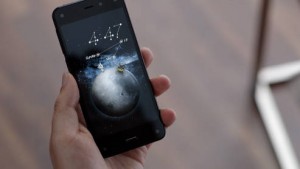 The display is 4.7in (12cm), with an ambient light sensor, and wireless interfaces include: nine bands of LTE, four bands of GSM, five bands of UMTS, 802.11ac (and Wi-Fi channel bonding), NFC, and Bluetooth.
As well as the gesture sensors, there are two conventional cameras: at the rear camera is a back-side-illuminated 13Mpixel sensor with LED flash, a five element f/2.0 lens and optical image stabilization (OIS). While at the front is a 2.1Mpixel camera. Both can record 1080p video.
The US cost, through AT&T, is $199.99 with a 2-year contract for a 32 GB model. A 64 GB model costs $299.99. Without a contract, the phone will cost  $649.99.
Pre-orders for the phone begin Wednesday, and the phones will be available starting July 25.
Steve Bush