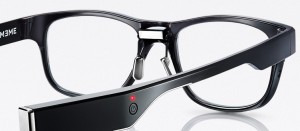 Thanks to damngeeky.com for flagging this one. The sensors involved include a three points electro oculography sensor, a three-axis acceleration sensor, a three-axis gyro sensor.
The company, Jins Meme, writes:
The proprietary three-point eye potential sensor is capable of detecting eye potentials while maintaining a traditional eyeglass form.

The sensors and battery are designed to fit neatly in the ends of the temple pieces.
Using Bluetooth 4.0 smart, compatibility is promised with MacOS, Windows, iOS, and Android. How are they powered? A rechargeable lithium-ion battery is installed.

Note that they are not available yet, and you could only pre-order them. Guarav writes:
This eyewear comes in a range of choices from normal glasses to sunglasses for summer days. The classic eyewear form is called Wellington, intellectual looking glasses as Half Rim and the Sunglass range signifies the fashionable teardrop range.

The glasses are all set to debut in 2015 in Japan at an estimated price of 70,0000 Yen which is around US$685.
httpv://youtu.be/6jXjpteeLhw
Meme basic specification
Weight and size
Weight: About 36g (Wellington model with dummy lenses)
Battery / hours of use
Battery: Rechargeable lithium-ion battery installedHours of continuous use: 8 hours (16 hours using the headband)
Sensors

Three points Electro Oculography sensor *
Three-axis acceleration sensor
Three-axis gyro sensor
* Patent pending

Supported OSs
Anticipated to be compatible with Mac, Windows, iOS, and Android
Supported languages
Japanese, English
Communications
Bluetooth 4.0 smart
Display
None
Buttons and connectors

Micro USB charging terminal
Power button
Light
*Specifications as of May 13, 2014. Specifications subject to change.

[Via LikeCool]