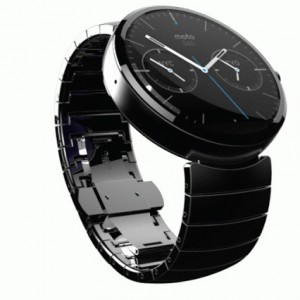 Read more on the Motorola Mobility Google+ page »
According to the watch's homepage, it is "coming summer 2015".
In terms of UI, Google says a new form factor deserves a new UI model and at the highest level this consists of two main elements: the "context stream", to be swiped through, for suggestions; and "cue cards" for demands, i.e. unanticipated actions.
According to Google, Android Wear will support:
Useful information ("Android Wear shows you info and suggestions you need, right when you need them. The wide variety of Android applications means you'll receive the latest posts and updates from your favourite social apps, chats from your preferred messaging apps, notifications from shopping, news and photography apps, and more".)

Voice control ("Just say 'Ok Google' to ask questions, like how many calories are in an avocado, what time your flight leaves, and the score of the game. Or say 'Ok Google' to get stuff done, like calling a taxi, sending a text, making a restaurant reservation or setting an alarm.

Monitor health and fitness ("Real-time speed, distance and time information on your wrist for your run, cycle or walk.)

Multiscreen support ("Access and control other devices from your wrist. Just say 'Ok Google' to fire up a music playlist on your phone, or cast your favourite movie to your TV.")
httpv://youtu.be/dnerqDWwVgg
Note LG has also announced the LG G Watch, based on the Android Wear.