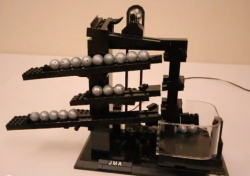 How ingenious is this? A cross between an abacus and bagatelle, the Lego Ball Clock is a very crafty way to tell the time.
How does it work? Well the top level measures minutes, the second level tens of minutes and the bottom level hours (it's 5:39 in the picture).
Basically a ball is raised to the top once every minute, and when the total reaches 10, the arm slips, depositing nine back into the collection basin at the base, but also adding one more ball to the level below. When the level below reaches six, five balls are returned to the collection basin, with one ball falling to the level below, representing hours…
At midnight, all the levels will be clear.
The inventor, Jason Allemann, talks you through his invention in the video below and shows off the gearing mechanism hidden from sight behind. Worth a look, I think!
See also:
* I can't believe someone makes… DIP switch watches
* I can't believe someone makes… Faceless watches [Part 3]
* I can't believe someone makes… Faceless watches [Part 2]