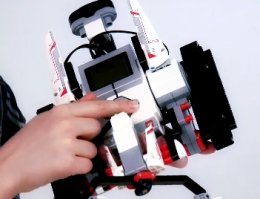 Android. Lego. Robots. What's not to like for Gadget Master?
You might have spotted the connection straight away, it's Mindstorms. To be precise, the EV3 robotics platform which will come with Android and iOS support.
Apparently, the new Mindstorms will be released in the "Fall" of 2013, with kits costing $349.99, reports The Verge.
What will you get for your money with an EV3 set? One EV3 programmable brick (the intelligent programmable micro that controls motors and sensors and supports Wi-Fi and Bluetooth comms), 2 Large Motors, 1 Medium Motor, 1 Touch Sensor, 1 Colour Sensor, 1 Infrared Sensor, 1 Remote Control, cables, USB cable and 500+ TECHNIC elements.
Adi Robertson writes:
Lego's Mindstorms robotics system is getting an update with mobile computing in mind. The new EV3 system is based around a revamped, Linux-based "intelligent brick" — the central Mindstorms operating component — that is now compatible with iOS and Android devices out of the box. The latest brick has an ARM9 processor, 16MB of flash memory and 64MB of RAM, and an SD expansion slot, compared to the last-gen NXT brick, which had an ARM7 processor and no expandable memory. As before, multiple sensor bricks can be connected, this time four instead of three.
Note that control via an Android phone app is already in existence. See the Life of George ("Build, scan and score your way around the world with LEGO Life of George, the first game to merge LEGO brick building with your mobile device.")…
Don't get your Android (2.1+) hopes too high, though. One commenter, AndyChaos,  writes:
Your phone displays a lego image and you have to build it accurately quick to score big, it's fun when it works. There lies the problem, your phone. The designers of the app obviously had iOS in mind (iPhone/iPod touch), hence the no back button on android. It works well on iOS but is very buggy on android which is a shame when currently half of the smartphone market is android. There are many different builds and you can even create your own for the fun of it; George (the main character of the game) has been around the world which is where these build ideas come from. Over all, the "set" is fun for kids and has its charm for older folk and is a buy if you have an iPhone and are willing to try something different.
I would recommend this to a friend!