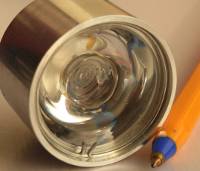 "Alice" describes the work of a "few evenings in a chilly workshop".
She writes:
The result is a Mark 6b LED bicycle headlight and, once more, learning more than I wanted to.
The +/-4° 6b is the result of those nice people at Cree spotting my semi-failure +/-4?° 6a, which used some old Cree bits, and them sending me some shiny new stuff.
To re-cap, I am a one-Alice Crusade to have nice bright dynamo headlights on all bicycles, with proper main-dip switching to avoid dazzling fellow road users.The dip beam is sorted out by a particularly well-designed lamp called a Cyo – which puts barely a glimmer above the horizontal – whose electronic innards I have tapped into feed a home-made main beam.
Mark 6, 6a and 6b are attempts at this main beam, each one learning from the last.
Learned thing one
The efficiency figures quoted by collimator makers, although probably absolutely accurate, are a bit misleading.
Most of them are 88-94% efficient, but this is with respect to the total light leaving the front face of the optic, not the light leaving within the nominal beam.
The additional figure I would like to see, is the percentage of light that is concentrated within the nominal beam angle.
If you wanted a beam with plenty of peripheral illumination, you would pick one with say 50% within the nominal beam, and if you only want to illuminate specific object, you would pick one with as much as possible, say 80%, in the beam.
Had I known this before, I would not have selected the +/-4°optic that I tried in the Mark 6a as it has too much peripheral light for headlamp use – it would make a great torch though.
After much machining and a bit of epoxy-ing, I have the 6b.
And the beam is absolutely excellent with just about all of the available lumens leaving through the claimed +/-4°.
So thank you to Ginny Skalski and the guys in the lab at Cree in North Carolina.
Learned thing two
Gaggione, maker of the LLC05N collimator that Cree sent, uses all of the +/-0.15mm tolerance its drawings allow, and maybe a little more.
And that by using the Gaggione holder supplied by Cree, it produced an awful beam.
By trial and error I estimated a 0.65mm gap was needed between the LED mounting surface and the rear of the collimator. The holder was providing 0.3mm.
Gaggione responded in a couple of days when I emailed to ask what the correct distance is – with 0.7 +/-0.1mm.
Which works beautifully.
BTW: I just looked at the Gaggione and it looks like they have updated the holder design. I would still check very carefully when working from its drawings.
– Good product, good email response, could do better with paperwork.
Learned thing three
There is very little room left behind an LLC05N optic, even without a holder.
If you are using a 'star' board, you either have to glue the star down, or use screws with very smalll heads.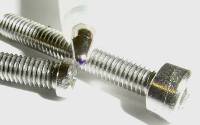 I feel quite pleased with my lathe-beginner self because I turned down two ordinary 3mm screws so the heads were 4mm in diameter and 1mm high, and they just fitted.
Photo: Before, after, and a ball point pen tip.
Incidentally, the star board that Cree supplied under its XP-G LED is so good at shifting heat that – with Pb-free solder and a narrow bit – it was tough to solder the wires on, even with a 50W iron.
Anyway, the whole thing is on the bike now and a five minute ride up the road last night swapping betwen all four lights suggests that the XP-G/LLC05N combination is a winner for a cycling main beam.
Learned thing four
Although they seem to be fine if you solder quickly and use them once, Maplin's FH98G SPDT ultra miniature toggle switches don't like being de-soldered and used again, particularly with Pb-free solder (the firms own, deluxe type).
The plastic melted, the contact misaligned, and the switch no longer worked – the second time I have this trouble – which I have never had with sub-min toggle switches.
'Alice'
Should you feel the need, respond to alice@electronicsweekly.com with 'Mark 6b' in the title.