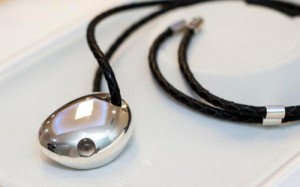 It has been designed in conjunction with the jeweller Cellini, and runs CSR's low power Bluetooth Smart CSR1012 platform, part of its proven CSR µEnergy range, and it runs on a small lithium battery.
CSR is wisely putting the emphasis on "wearable" rather than "technology".
"Many of the wearable technology devices hitting the shelves today offer great features but don't take into consideration that consumers want beautiful, cutting-edge devices that complement their personal style," says Paul Williamson, Director of Low Power Wireless at CSR. "If wearable technology is to reach its potential it needs to appeal to more than just technology lovers. Devices like these connected pendants will help wearable tech go mass market."
The CSR microprocessor within the necklaces supports the Apple Notification Center Service (ANCS), which is a feature released in iOS 7 allowing peripheral devices to access all notifications generated on an iOS device over a Bluetooth connection. Android,m however, has not been forgotten – CSR will also be demonstrating Android applications that enable the user to set the colour and patterns of the jewellery, it says.
Note that it doesn't have to be caller information – the connected jewellery is configurable.
"Although these prototypes have been designed to alert users to notifications on their smartphones they could be used for many other things,' says Williamson. 'Developers could use the same printed circuit board (PCB) to design more aesthetically pleasing activity monitors. They could even integrate scent capsules to allow users to release a spray of their favourite fragrance at certain times of day. We wanted to give our customers a glimpse of what they could do with this technology. The possibilities for truly wearable technology devices are endless and we're looking forward to seeing what they develop with it in the future."
Remember that at the end of last year CSR launched a low-cost development kit for developers to get Bluetooth Smart prototypes up and running fast, and this would work with such wearable technology.
The kit includes a full version of the CSR xIDE development environment, a suite of profiles and example applications to run on-chip, and there's also example source code for iOS and Android. Support is promised via a newly launched CSR developer forum and wiki.
It would seem to make sense to plug into existing Maker communities – around the Raspberry Pi and Arduino, for example – and CSR promises developments in this area. We'll have to stay tuned.
Hmmm. I'm not convinced by the concept of wearable technology, myself. But what are your thoughts? Share them via a comment below or use the hash tag #EWconvo on twitter.
Would you ever wear technology, whether as piece of clothing, jewellery, or just wristband?
httpv://youtu.be/H3D3q5MCZUs