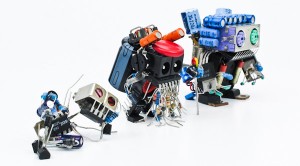 They are currently on the crowd-funding website kickstarter.com – well worth a look – and aim to provide manuals and kit for people to build their own versions of the specific D.bug characters, such as Watch Dog, Grand Cappy, Memory Hog (pictured right)… Each kit would include an instruction manual, electronic components, decals, and a specimen jar.
They write:
We are a small group of programmers and engineers who apply complex engineering solutions to fun products that everyone can enjoy. We love all things robot-related! In our experience, we have seen a lot of kits that make engineering fun for artists, but very few kits that introduce art to engineers. As a group, we want to bridge the gap between art and engineering by creating art hacked from electronics.

Each D.Bug is named after a real-world software or hardware error often encountered in robotics. Similar electronic sculptures are sold by artists for hundreds of dollars. D.Bug kits are an inexpensive way for everyone to enjoy creating art. The kit is purely aesthetic, so it breaks down the barriers of working with electronics since testing functionality is not required.
With 71 backers on kickstarter, $3,930 has been pledged (at time of writing) towards the $15,000 goal.
They are giving out special postcards for each pledge of $5, but for a "Showstopper" pledge of $120 you would receive all three instruction manuals, electronic components, three sets of decals, and three specimen jars, plus a set of postcards.
As Mike correctly points out, we have covered similar territory. Check out the old post recently featured in the Gadget Master newsletter – DNA inspires chip art
Grand Cappy is pictured below: