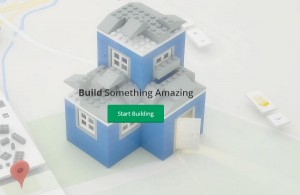 See the Official Google Blog post – Chrome + LEGO: You can build whatever you like
Think back: you've just dumped a bin of LEGOR bricks onto the floor with a satisfying crash, and you have the whole day ahead of you to build whatever you want. There's something pretty amazing about being able to piece together your ideas with just a collection of colourful bricks.

Well, we think the creative freedom of LEGO bricks shouldn't be limited to plastic bins – which is the idea behind Build with Chrome, a collaboration between Chrome and the LEGO Group that brought these colourful bricks to the web using WebGL, a 3D graphics technology.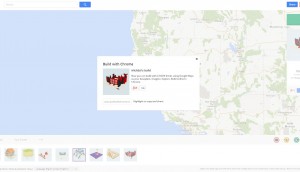 It all started in Australia, as an experiment apparently:
So it's with childish delight that today we can announce Build. Over the last few months we've been working with LEGO Australia, thinking about what would happen if we brought bricks to the browser. Build is the result: our latest Chrome Experiment which lets you explore and build a new world of LEGO creations together online. With 8 trillion bricks, think of Build as the largest LEGO set you've ever seen.

Build may look simple, but this collaborative 3D building experience would not have been possible a couple of years ago. It shows how far browser technology has come and how the web is an amazing platform for creativity. We made the bricks with WebGL, which enables powerful 3D graphics right in the browser and demonstrates the upper limit of current WebGL graphics performance. We then mixed in Google Maps (another Aussie invention) so you can put your creation in a LEGO world alongside everyone else's.
This being Google, of course, they are keen for you to share and compare your builds via Google+.
httpv://youtu.be/BQnRIRSvHJg