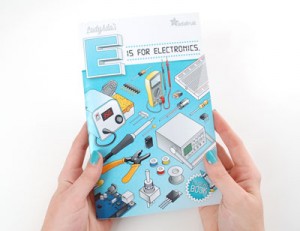 Here's a good one, from Adafruit, for parents of budding Gadget Masters (mini-Masters?) It's a colouring book featuring electronic components and their inventors – "Lady Ada's E is for electronics"
"Makers of all ages can learn and colour," say the creators in the video below (illustrations are accompanied by helpful text). L is for LED, for example:
An LED (light-emitting diode) is a special kind of diode that emits light when a current flows through it. The LED has two terminals, an anode and a cathode. Because it is a diode, electrons can only ow in one direction. When the electrons cross the barrier between the anode and the cathode, they release a photon, which produces light.
What's nice is that you can also print it at home by downloading the PDF of the entire (26 page) colouring book.
Find it in the Young Engineer section of the Adafruit website, and check out the lots of other interesting entries there, too!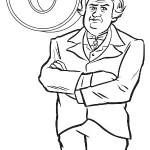 Green is certainly an important part of the palette – check out this statement on the Adafruit site:
Adafruit's coloring books are manufactured in partnership with AMBRO Manufacturing located in NJ, USA. AMBRO is a family owned and operated business since 1990 that celebrates open-source with Adafruit Industries. You can meet their team here. AMBRO uses non-toxic soy based, water soluble and environmentally friendly printing supplies, threads and more when possible. AMBRO has over 250 solar panels that generate 50,000 Kilowatt hours per year. Their equipment runs solar powered, so the wonderful things AMBRO and Adafruit have worked together on are made with the sun! AMBRO Manufacturing was recognized by Impressions Magazine, a leading trade publication in the garment printing and embroidery business, who published an article highlighting AMBRO and their commitment to their environmentally focused manufacturing practices. Adafruit knows you have a lot of choices as to where you spend your money and time, we hope our open-source values, commitment to green technologies and partners helps make the decision easier and fun!
httpv://youtu.be/vxdX2vJzwXc