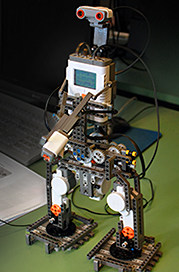 The MathWorks Simulink Robot Challenge is coming to Cambridge on Friday March 15th. The compo will test the wits and programming skills of 10 teams of University students who will compete to program robots to navigate a special circuit.
The teams will be using Lego Mindstorm, and MATLAB and Simulink.
The event is intended to support moves to get more students in the UK interested in computer programming to help meet the needs of the UK's engineering and technology industries.
"Giving students hands-on experience with industry-standard tools through project-based learning (such as this Robot Challenge) is a great way to engage students with the joy of programming," said MathWorks
The challenge starts at 10am, awards will be given at 5pm.
The Robot Challenge Guidelines are:
Teams of up to four people
All team members must currently be enrolled at University of Cambridge.
MathWorks employees (including those on an internship) are not eligible.
Winners will be announced on the MathWorks webpage, Facebook, and Twitter.
All entries will be judged by MathWorks engineers. Teams will be awarded points for correctly completing tasks (up to a maximum value) within a set time. The winning team will be the one with the most points, and in the case of a tie, the winner will be determined on speed.
Full instructions and judging criteria will be supplied on the day of the event.
Each member of the first placed team will be awarded a Google Nexus 7. Prizes will be awarded for first, second and third place
Proceedings on the day of the event will be videoed and content will be shared as MathWorks deems appropriate. By registering for the event you agree to be included in any video footage.
Decisions by the judges are final.