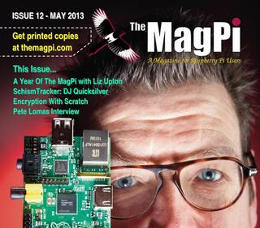 Issue 12 of the Raspberry Pi magazine The MagPi is hot off the press.
The May 2013 issue includes features on making your own case, a breakdown on the various operating systems available for the Pi, coding and decoding messages in Scratch, and printing from Python. There's also a retrospective look at the first year of the Raspberry Pi by Liz Upton. It's edited by Ash Stone. Worth your attention, Gadget Masters!
You can download #12 in PDF form sdsdsd or view it online via issuu.
What is The MagPi? In their own words:
We produce a magazine with the intent to help and offer advice to users of the Raspberry Pi. Our content covers articles on a variety of Raspberry Pi related themes including coding, robotics, home automation, electronics, and practical techniques to name a few.

The team behind the magazine is diverse, with editors and contributors from all over the world, from all age groups and all professions; from educationalists to medicine, technologists to students. To reflect the global interest in The MagPi magazine, it has been translated into Chinese, French, German, Spanish.