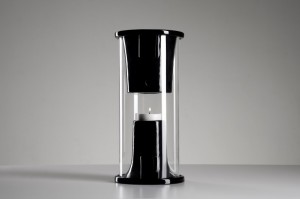 Check out Pelty, which uses the thermal energy generated by the heat of a candle to help power the speakers.
It's currently a project seeking attention on crowdfunding website Indiegogo – see Pelty uses the thermal energy of a candle to amplify your music!
At the time of writing, it has raised $17,912 towards its $100,000 goal, with 38 days left.
On Indiegogo your support can range from a $5 "Supporter", getting email updates and a mention on a thank you webpage, to a $699 "Golden Pelty", getting one of twenty limited edition golden versions, plus 19 scented candles!
At the heart of the system is a Thermo Electric Generator, apparently also known as a "Peltier cooler" from its 19th century inventor, based on the principle that a difference in temperature can generate some electricity.
The nakers write:
The Peltier cooler is very inefficient (that's why you never heard about it!) and just a very high difference of temperature is able to generate enough electric power to turn the speaker on. The space inside the Pelty and its components are designed to maximize this difference in temperature.

Everything is positioned inside the ceramic vase accordingly, thanks to wood and ceramic frames. The external glass is also engineered to maximize the power generated by the TEG, because several holes let fresh air get into the system from below, while warm air gets out from above.
Originating in Italy, there is inevitably detailed attention to design. Only the best materials are used, say the creators: ceramic, glass and wood…
Ceramic, in particular, is used on the one hand because of its resistance to heat and the excellent acoustic and insulation properties and on the other hand because it's an elegant and natural premium quality material that perfectly matches the concept of Pelty. Ceramic is hand-made in Italy, as well as the glass.
The team of three behind Pelty are: Gianluca Gamba, Edoardo Bosio and Matteo Bertele. Good luck to them – it sounds a great idea.
httpv://youtu.be/M7TzhiIU0Xs
[Via GizMag]