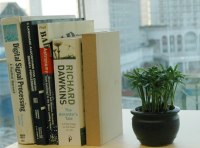 "Documents or books can be piled up on top of the computer, or it can be placed on a bookshelf. It's a computer that you could sandwich between a variety of objects."
I like this one. One for book lovers maybe – hide your (Android) PC among a pile of books or on one of your shelves. I think I want one!… The APC Paper runs a version of Android (4.0) customised for keyboard and mouse input, with a range of necessary I/O ports and a number of open source applications pre-installed.
I remember you used to be able to hide VHS cassettes in faux leather book bindings, but this seems more natural and practical, and less pretentious (of course, you could put try putting your own favourite book cover round the casing…)
Oh yes, and it will only cost $99, when available in March.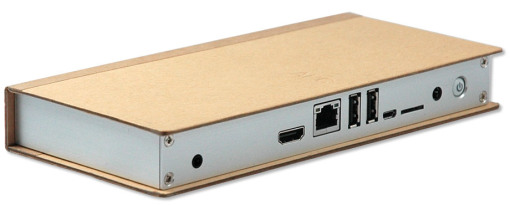 "APC Paper, with its unique recycled cardboard case, is a computer for people wanting to connect to the Internet without the need for specific Windows applications," says the company. "With special attention to design, APC paper blends seamlessly into any home or office environment."
Thanks to SlashGear for highlighting this one.
Technical Details
Item

Description
Model
Paper
Software
Android 4.0 (PC System)
Chip
VIA ARM Cortex-A9 @800Mhz Processor
Memory
DDR3 512MB Memory
4GB NAND Flash
Graphics
Built-in 2D/3D Graphic
Resolution up to 1080p
Input and Output
HDMI
USB 2.0 (x2)
microUSB (OTG)
Audio out / Mic in
microSD Slot
Network
10/100 Ethernet
Debug
20-pin ARM-JTAG header
Expansion
Extra GPIO, SPI and I2C busses on a header
Size
204 x 98 x 28mm (W x H x D)
Case
Recycled pressed cardboard with high-grade aluminum