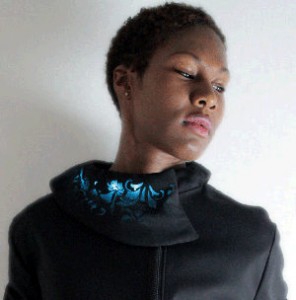 A new line of clothing, Lüme, lights up with tiny, flexible LEDs sewn right into the jackets and dresses. It is created by a husband and wife team – Elizabeth Bigger and Luis Fraguada – who are seeking to make tech clothing "truly comfortable and wearable".
Hal Hodson, of New Scientist, writes:
The collection, called Lüme, was shown last week at the International Symposium on Wearable Computers in Zurich, Switzerland. It consists of a bomber jacket, a tunic, and an open-backed dress – all of which have controllable LEDs built-in that can be controlled by a smartphone app. The LEDs are enmeshed in fabric so they don't touch the wearer's skin, and they shine out through several layers of fabric that diffuse the light for a softer glow.

The pattern of the fabric can be tailored with a laser cutter to make anything from polka dots to floral filigree, for instance. Their electronic components are designed to be easily removable, for when the clothes need a wash.

In a paper presented at the conference, Lüme's creator, fashion designer Elizabeth Bigger, wrote that wearers can "control the light pattern to match other elements in their outfit, react to a sensor event, or even echo the colours in the surrounding environment". For example, you can use the Lüme app to take a photo of a piece of clothing that you want to match with.

Lüme clothing can also change colours in time with the beat of music in a club. Bigger says the app could easily be tweaked to adjust the clothing colour according to the weather, or to sentiment in a wearer's Twitter feed.
httpv://youtu.be/33w8oNFmTCs
More images can be viewed at http://jorgeandesther.com/lume/