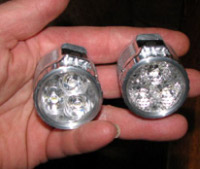 As the last glimpses of autumn sunshine begin to fade into the long dark nights of winter, those athletic Gadget Master readers who avidly insist on cycling to work everyday are presented with a potentially dangerous problem.
When using a vehicle as fundamentally fragile as a bicycle it is incredibly important to both be seen and be able to see when travelling home at 6pm on a dark windy night sometime in late November.
Although bike lights are by no means a new invention and have been used successfully for years, the rapid evolution in LED design means increasingly more powerful and more durable lights can be manufactured.
Enter three bike light hobbyists from Australia who have taken particular advantage of this recent surge in LED design to create their own ultra-bright and ultra-durable light, dubbed the Min-T.
The use of three high power Seoul SSC P4 LEDs, which are rated 240lm at one amp, gives an output brightness of 720lm per light. This rating easily ranks in amongst that of most HID (high intensity discharge) headlights and can boast a bulb life of over 50,000 hours, absolutely staggering when considering a good HID lamp will give you around 200 hours at the same brightness.
One clear disadvantage of having this much power packed into such a small casing is that the heat dissipated will be considerable. The designers have taken this into consideration and explain the design on their website, www.cncdelite.com
"The 'one piece' CNC design is the KEY to efficient thermal regulation. As the LEDs are attached to the same piece of metal as the outside housing, you have a DIRECT thermal path for the heat to dissipate."
There has always been one great foreseeable downside with LED lights and that is that they are quite expensive, however you could expect to see prices drop further as the advances in the technology continue.
This homemade example is not that cheap and can only be described for the real biking enthusiast, one who still insists on cycling home in -4, nevertheless it is still a great achievement. It shows, to everyone who is interested, the power and advantages of LED technology and how well and, dare I say it, simply it can be implemented into everyday objects.
If you want to get your hands on this custom made bike light, with new digital controller coming soon, you'll have to send off to Australia, however judging by the beamshots (see an example below) on the website it'll be well worth the wait!
Tom Wilson