Gizmag describes it as a "small light with big ambitions".
Its noble aim is to help provide a lighting solution for the poorest people on the earth whose lives are often lived away from any electricity grid. By replacing less-enviromentally friendly alternatives, such as paraffin lanterns, it's also a green solution.
The inventor is Michael Suttner, who has a background in mechanical engineering, and you can read all about it on the Lightie website.
The secret source, apparently, lies in its proprietary cylindrical PV panel, which absorbs the suns rays to charge the batteries.
The system involves a 120 lumen dual LED setup, which needs 5-8 hours of sun to fully charge, and the battery of the Lightie should last last 4-5 years.
Features:
State-of-the-art flexible solar panel
Built into a durable, ruggedized acrylic housing
Utilizes Lithium battery technology
8hrs in the sun yields 40hrs+ of light (low setting)
Will charge under cloudy/rainy conditions
Outputs 12x more light than a paraffin lantern
Battery will last 4-5 year (2000 CYCLES)
Designed to fit all 22mm Pet Soda bottle necks.
On the FNB Ideas Can Help blog, Michael describes it as follows:
The Lightie is an extremely efficient, patent-pending, test-tube shaped solar powered "light bulb". It is a Picosolar device, designed to bring affordable lighting to the predominantly impoverished masses worldwide that still use paraffin for their lighting needs. The Lightie's innovative design has been crafted to screw on and fit flush through the mouth of a standard soda bottle 22mm in diameter, thus converting the bottle into a multi functional and waterproof solar powered lantern/task light. The elongated design of The Lightie made from durable injection moulded acyrlic housing acts as a compartment to both the proprietary Photovoltaic panel (PV) and its rechargeable batteries, which store the energy of the Lightie. The Lightie absorbs its energy from the sun via the CIGS PV panel, built in around the radial internal surface of the elongated tube. The main ideas of conceptualising a PET bottle for the structure of the Lightie, was two fold. Firstly to shave off additional material related costs in the manufacturing process and secondly I see the Lightie as having potential co-branding synergy benefits with brands such as Coke/Pepsi.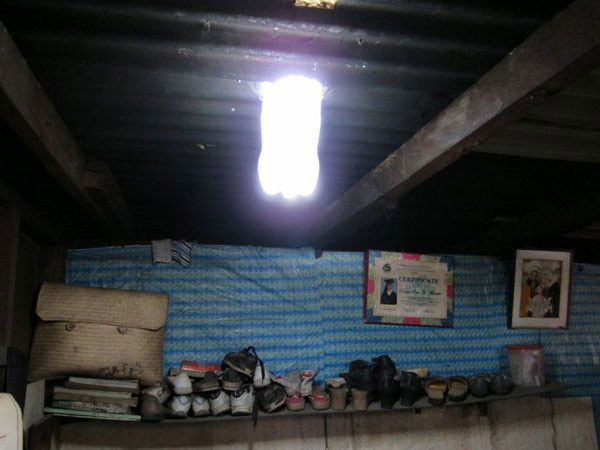 Images: The Lightie website