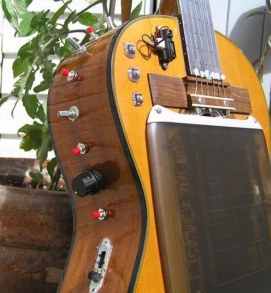 After the Laser Harp, here comes the tablet guitar… more musical instruments melded with technology.
I wonder what Slash would make of this – a specially modded guitar that uses a tablet to help create electronic sounds. You draw the chords, as it were.
Credited to one Sébastien Coulombe, it is dubbed "la Guitare à crayon" – the Crayon Guitar, in English pounds, I guess. It takes the body of an accoustic guitar and inserts a tablet over the sound board, enabling freeform sketches of the hand to trigger sounds of a particular character.
It's not new, note – it was demoed as far back as 2004 – but is apparently an ongoing open source project. The work is centred around the GIMP image editing tool and the Pure Data software system ("developed by Miller Puckette in the 1990s for the creation of interactive computer music and multimedia works" Wikipedia tells me).
Back to the Guitare à crayon, and Slashgear writes:
One preset uses the X-axis to control octave and Y-axis to control different effects; there are both analogue and digital inputs, and an infra-red distance sensor that can act as another trigger. Interestingly the USB guitar doesn't even need drivers, as it has a custom boot loader. Right now the source-code isn't online (because Coulombe isn't sure there's all that much interest in it) but if enough people decide to weld their art equipment to their instruments then he'll upload it all.
Full details of the project can be found on the WorkInProgress website. You can find schematics and circuits, too.
Hardware features:
Accelerometer X-Axis (for example controlling the octave)
Accelerometer Y-Axis (for example controlling an effect)
6 analog strings giving around 10 bits of resolution
External input: 1 analog, 1 digital
4 positions switch
8 buttons
4 pots
1 piezo with velocity filter (for example trigging any sound)
1 ir distance sensor (+-6cm – +-20cm)
1 unuseful led (for tapping the bpm)
Pressure-sensitive tablet
Foot controller (using a led & a photoresistor)
Foot switch (looper, change sound, …)
Software features:
No driver (firmware & bootloader)
Linux, Windows, Mac
Pure Data poweful DSP (sample, soundfont, fx rack, multiple looper)
Gimp for 2d (drawing, painting, photo, …)
Gesture tracking on the tablet (linux only)
Amazing. And kudos to those who have already helped to build such a system. It could give a new meaning to a "slow hand" guitar player: "Hang on, I'm trying to draw a diminshed F# seventh!"
Anyway enough talk, and on with the show. Ladies and Gentleman, la Guitare à crayon. Take it away Sébastien!

Guitare à crayon from psc on Vimeo.