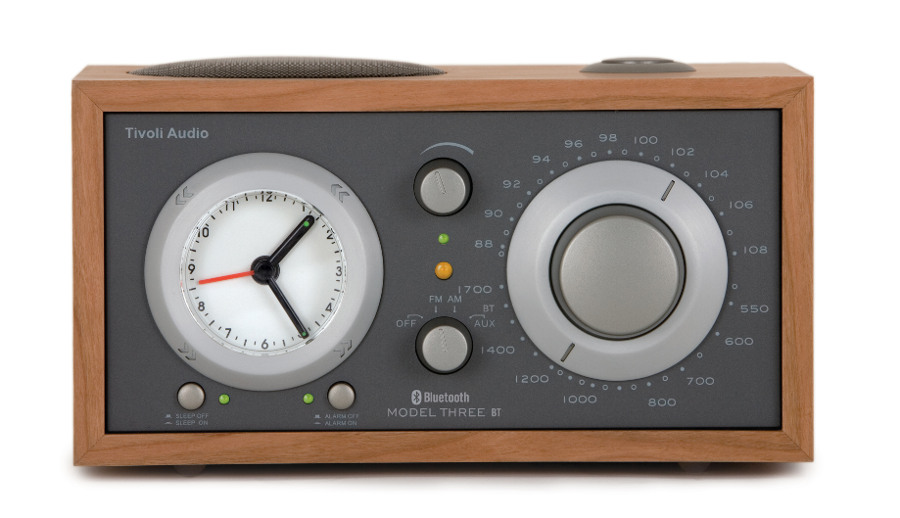 BT is for Bluetooth, by the way, not British Telecom – the device is made by Tivoli Audio and is a Bluetooth-equipped clock radio, designed for pairing with the likes of laptops, smartphones, and tablets to stream music through Tivoli's sound system.
According to the makers:
The gently illuminated clock isn't just an awfully pretty face – it has a sleek thumbwheel with which to set the alarm, as well as a 20-minute sleep timer, a snooze button, and the choice to wake to the alarm tone or the radio. Its battery backup also guards against the radio losing alarm settings during a power outage. Factor-in the supplied FM antenna, and stereo headphone output, and you have a truly beautiful package, perfectly uniting timeless style with the latest technology. A Bluetooth-equipped George Clooney, if you will…
There is no DAB chip inside, it has an AM/FM tuner, but if you do want digital stations you can use Tivoli Audio's own Radio App, which offers 100 pre-selected channels.
It uses Bluetooth version 2.1+EDR, and the A2DP profile for sound.
The BT is available now at an RRP of £249.00 from the likes of Amazon, John Lewis, and Tivoli Audio (online).