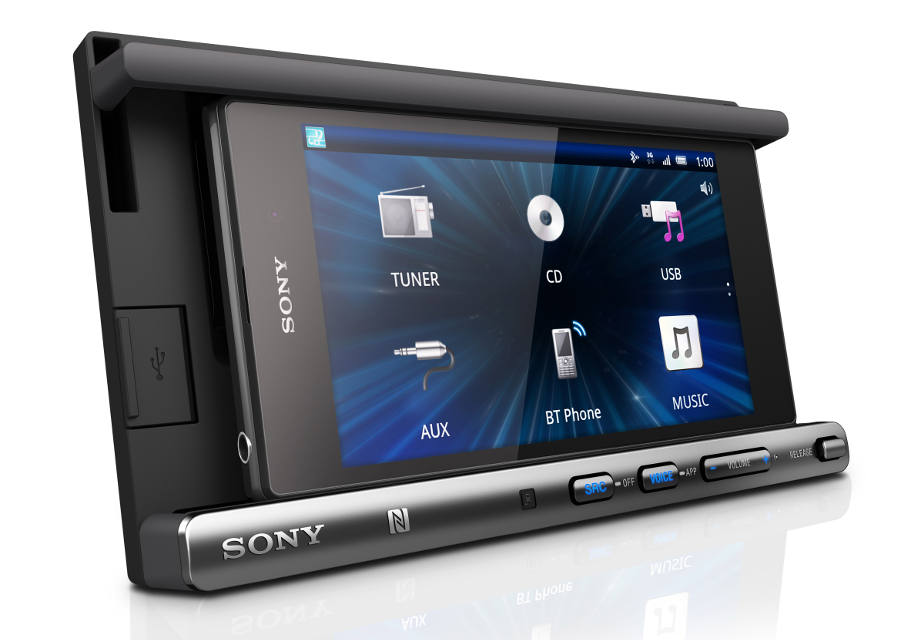 The Sony XSP-N1BT is a double-DIN Smartphone Cradle Receiver, and its "clamping system" can hold a wide range of smartphones securely in the dash.
According to Sony it features a second generation AppRemote interface, and the smartphone's touchscreen can control head-unit functions via Bluetooth for Android devices, or via USB for an iPhone:
AppRemote also facilitates voice operation of both the head unit and the smartphone. And thanks to its IR remote, the XSP-N1BT offers CD, USB and tuner source functionality even without a smartphone. The IR remote can also be utilized to select apps and head unit sources displayed on the App Remote menu screen.
The cradle receiver also provides a charging capability via a compact USB cable.
"Consumers are now using their smartphones as a primary music source in the car, in addition to accessing key apps," said Andrew Sivori, vice president of the Sound Division at Sony Electronics. "Our new head units are designed to maximize smartphone capabilities while making control and operation more convenient on the road."
Pricing and availability? You should be able to buy it in May for $250 in US money.