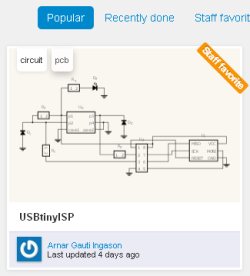 Here's an interesting one to flag – have you come across it already? The website, which is still in 'beta', is www.circuits.io
The people behind it write:
Circuits.io was founded in 2012 by Karel Bruneel and Benjamin Schrauwen. After struggling for years to design and teach to design electronics using existing EDA tool, they felt that electronics design needed an urgent jolt. Learning from how software is designed, they came up with the following magic recipe which is at the heart of circuits.io: (i) allow to easily build on pre-designed electronics modules, (ii) use intuitive tools that hide much of the complexity in software, and (iii) embrace the open hardware movement.
For each listed design you get both Design and PCB views. And particularly interesting is the 'Fork & Edit' option, which lets you interactively edit components of the design (note: it works with the Google Chrome browser).
Thanks to Gadget Master reader Mike Meakin for highlighting this one. His comments, however, are worth repeating. Caveat Circuit Emptor…
Yes, rather fun but IMHO a worrying trend from the 'DIY brain surgery is easy' brigade.
 
This last few years I have had to 'sort out' a number of Chinese electronic 'designs' and as they say 'the devil is in the detail'.
 
It is SO easy to get a 'design' from the Internet but electronic design is an 'art' and experience is thing that makes things work in the real world ?

Just as an example from the site, the 555 one-shot has no pull up on the trigger input ! A floating input with an indeterminate state – fine (sort of) if a bipolar 555 is used but if a CMOS device then I see trouble ahead !
 
So yes 'rather fun' !