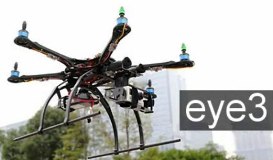 I see that Julian Horsey on his Geeky Gadgets blog has had the spotter cameras out and found an inexpensive flying drone to keep an eye on things.
The camera drone is called the Eye3 and it has been designed by Kellie Sigler as "a professional quality yet affordable" camera in the sky.
We are told the design kit is "easy to assemble".
The flying camera is based on a hexacopter design. The open source platform includes inertial management and an autopilot function.
It can even land if two rotors fail. That's impressive.
There's even a video on the website.
That's the concept and now Kellie Sigler needs your support to enable the Eye3 to make the jump from concept to production.
So why not build your own flying camera drone and go to the Kickstarter website to make it happen.
Steve Bush