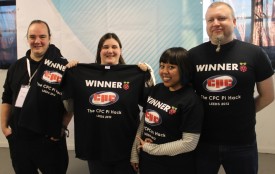 The UK's first Raspberry Pi Hack Day has been held, with the winner of "Best Overall Hack" being a virtual board game suitable for educational use within schools.
The 24-hour bake-a-thon, hosted by CPC in Leeds, focused on programming solely using the credit card-sized Raspberry Pi, and the winning team – Spooks – developed a board game which encourages players to experiment with programming.
The software was designed by husband and wife team Shi and Kriss Blanks along with Chris Armitage and Rebecca Brannum, and apparently included original artwork and musical composition.  Impressively, the team came together for the first time at the event…
The teams were equipped with just a room to weave their coding and design skills, plus "unlimited power, internet access, and dinner, breakfast and snacks"…
The winner's reward? A tour of the Raspberry Pi factory, along with the pick of gadgets such as Philips Full HD Pocket Camcorders, Hubsan H107 Quadcopter, Logicom Spy tank, Storage Options 7" Android Tablet PC and Raspberry Pi Plug and Play Kits…
The judging panel consisted of Gareth Halfacree, co-author of Raspberry Pi User Guide (see our current compo), Alex Hudson, BBC Click Interactive Producer, Dr Simon Monk, author of Programming the Raspberry Pi, Barbara MacManus, Associate head of School of Computing, Engineering & Physical Sciences, Dominic Hodgson, founder of LeedsHack and David Deventer, Head of Marketing at CPC.
In total there were six category prize winners:
Best Overall Hack: Virtual computerized games master (Spooks aka Shi Blanks, Kriss Blanks, Chris Armitage and Rebecca Brannum)
Best Hardware Hack:  Semaphore to twitter converter (Martyn Raynard, Paul Brook and Neil Pilgrim, all from Leeds Hack Space)
Best Software Hack:  Web-enabled grab machine (Jon Davies and Chris Dick from Maker Space, Newcastle)
Best Game: Custom built game in Java (Under 18 team – Luke Horwell, Billy Beacroft and Harry Merckel)
Best Team:  Spooks – Shi Blanks, Kriss Blanks, Chris Armitage and Rebecca Brannum)
Best Individual:  Wi-Fi remote controlled car with webcam (Lee Barker)