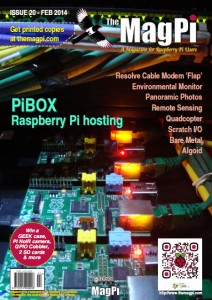 Articles include Project Curacao and the production of timed photos, how to create a bootable Linux SD card which can load within 10 seconds, Quadcopter control, part two of an environmental monitoring series, the development environment and language 'Algoid', panoramic photography using the robotic Pi-Pan, restoring lost Internet connections, book reviews, Pi events, and more!
The magazine is edited by Ash Stone.
As always you can view an electronic page turning version with issuu and also view it in the PDF format.