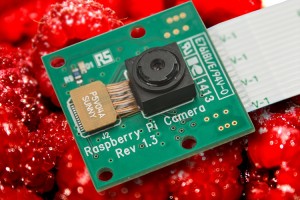 Priced at $25 online dollars, it, contains a 5-megapixel CMOS image sensor from OmniVision built on 1.4 micron backside illumination pixel architecture. This, says RS, delivers 5-megapixel photography, and high frame rate 720p/60 high-definition (HD) video capture.
The camera module interfaces to the Raspberry Pi via the existing camera connector, using CSI for data and I2C for control. It allows you to record 720p and 1080p at 30 frames per second in H264 video format.
"Over the last few months, we've been working on tuning and refining the Raspberry Pi camera module," said Gordon Hollingworth, Head of Software at Raspberry Pi. "We're very pleased to be able to release the camera board today. It's tiny, it only weighs a couple of grams, and it has awesome resolution – we've been seeing some stunning pictures from it. It's a really inexpensive way to add video or stills input to your hacks; we've already seen trial units we've sent out being used in university medical labs, taking pictures from airborne devices and in facial recognition projects."
Check out instructions on how to install and set up your Raspberry Pi Camera Module at www.raspberrypi.org/archives/3890.
Also, check out the YouTube video showing the camera board setup »
There is also a photo competition running until 14 June 2013: "Anyone owning a Raspberry Pi and camera can enter the competition which calls for images taken with the device to be submitted in four categories: your workshop/den, your Pi project, people and pets, or outdoors," said Element 14.