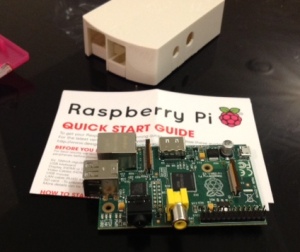 Inspired by the recent Raspberry Pi competition, I thought I should try a taste of the Pi myself. There was no burning ambition for development, or a particular app in mind, but I was very curious to give the device a go. Walk the talk, as it were, of what is now a staple of the Gadget Master blog…
Well, first things first, I realised that I was now a generation behind in my collection of cables (no new mobile charging format cables, no HDMI cables, not even a mains-powered USB hub…).
Trouble was, I waited for the device to arrive, just before Christmas, before actually thinking in earnest about the cables – what a plonker! – provoking a last minute, before Christmas, Amazon rush (busting my resolution to avoid the tax-avoiding online retailer)…
Anyhow, the cables and kit arrived just in time, and I thought the least I could do is document the bits and pieces that worked for me (reading the Raspberry Pi forums I had been warned about power supplies that were insufficient, possible steps to ensure Wi-Fi drivers were actually installed, best methods for flashing the SD cards, etc…)
In the end, all was fine, with these bits of kit (prices include delivery charges):
Nokia AC-10x mains charger (£4.77)
Belkin F7D1102ED micro wireless USB adapter (£7.40)
HDMI to DVI cable (£4.11)
D-Link Mains-powered USB hub (£20.99)
8GB SDHC card (£8)
My initial sense of achievement – I'd got it working, and hadn't fallen at the very first hurdle – was immediately tempered by the thought of how straight forward it had all turned out to be, and so how little credit could actually be claimed by me. Instead, all the kudos goes to the Pi team, and the thoroughness of their development process. Things have been made very easy for the end user.
What is also apparent is how soon costs can rise if you don't have the ancillary cabling, almost doubling – in my case – the initial cost of the Pi. I did manage to have a keyboard and mouse!