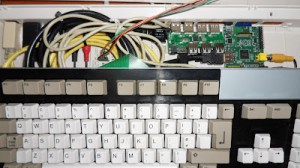 Check out this Gadget Master's website » He shares some photos, and Amiga/Pi aficionados should note that he is willing to build the device to order.
He writes:
I have first installed on the left the Ethernet adapter with some Patafix, well pressed to fix it. I have connected the Ethernet cable to the Ethernet adapter and reordered the cable.
After in the next Amiga port I have fixed always with some Patafix the HDMI cable with the female port looking outside. I have reordered the cable.

As before, I have fixed the RCA adapter and connected the RCA cables and reordered. Fixed the Raspberry Pi in 4 parts with patafix with SD card and power supply connector facing outside Amiga.
Update coming soon when Keyrah arrives...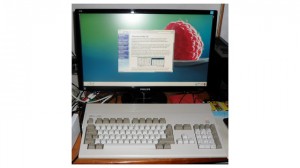 Pictured (right) is his A1200 Raspberry Pi loaded with RISC OS. He says "it works great, sounds works, the screen resolution is 1920x1080 and Internet is out of the box. GREAT JOB RISC OS!!!"
This is his parts list:
A1200 Case
A1200 Keyboard
A1200 Led
HDMI Male to Female cable
RCA 3 way Adapter
RCA Cables (Audio L,R and Video)
Ethernet Adapter
Ethernet Cable
4 ports USB Hub
Raspberry Pi
Raspberry Pi Power Supply
SD 4GB
AEROS SD image
Keyrah Amiga 1200
UHU Patafix
[Via Makezine.com]