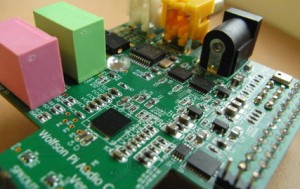 The Pi add-on, aimed at audiophiles who want an increase in sound quality over Raspberry Pi's existing education-grade audio interfaces – is capable of 24bit 96kHz audio playback.
It will cost £24.01 and be available from two Farnell-owned distributors: Element14 in Europe, and CPC in the UK and Ireland.
Playback is not the only thing the Wolfson Audio Card brings to the Raspberry Pi educational computer. It has both line-in, line-out/headphone and headset support, on-board stereo microphones, and digital audio S/PDIF in and out.
Communication is through Raspberry Pi's P5 connector (not available on revision 1 boards). P5 contains an I2S digital audio bus straight from computer's Broadcom main processor chip. When mated, the audio board covers RasPi's GPIO port, which is no longer available for other use.
Element 14 is segmenting potential audio card applications into:
Play – Play back high definition audio files with stereo line-in and line-out ports to connect to a hi-fi system.
Talk – Build a VoIP conference phone by connecting a boom microphone headset.
Record – Record high definition audio using any of the microphones or line-in ports.
Activate – on-board digital microphones can be used to voice-activate a project.
Share – Connect Raspberry Pi to the cloud and play music anywhere around a house, and play on-line games with in-game audio via a gaming headset.
For those wanting to test the card's sound quality, Wolfson and element14 have teamed up with a company called HDtracks and Chesky Records to offer five free 96kHz/24bit audio recordings.
Wolfson chips on the card are: audio codec and mixer WM5102, WM8804 S/PDIF transceiver, and dual WM7220 digital MEMS microphones.
For more basic audio – like VoIP work, there is a microphone/headset plug (black).
Software for the board is available in the Element 14 website, and will be rolled into a release of Raspbian – the Raspberry Pi foundation's own spin on Linux, said Element 14.
Electronics Weekly had been itching to speak about this board since the middle of last year when its existence was revealed during research for the article 'Getting Hi-Fi sound from Raspberry Pi', in which NXP engineer Wim Lemmers revealed how he was interfacing NXP chips to get high-quality sound out of the little computer.
Both Wolfson and NXP have used the special I2S digital audio port made available on version 2 of the RasPi PCB. The port is not populated with a header connector, and Wolfson has chosen to put spring-loaded pins on its board to avoid the need to solder to the Raspberry Pi board.
There is a rotatable Wolfson Audio Card image here.
There is more on getting hi-fi sound from Raspberry Pi here.
Steve Bush