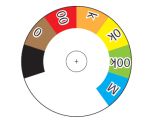 Thanks to reader Alan Metcalfe for bringing this to Gadget Master's attention. He describes it as "a simple Mr Spock circular (resistor) calculator, to cut-out and make".
The Resistor Code Calculator is on RobIves.com, where its creator describes it as "Paper engineering meets electronic engineering"! Like it.
Rob provides a link to a free PDF – via the site's shopping cart process – containing the paper dials for printing, as well as the origami steps to fold it into shape.
The picture shows the Resistor Code Calculator determining, for example, that a yellow, purple, orange resistor would have a value of 47k ohms.