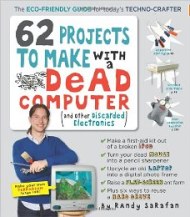 Here's a good book for all budding Gadget Masters that has only just come to my attention – 62 Projects to Make with a Dead Computer by Randy Sarafan, who is described as a New Media artist but may be better known to you through his work for the excellent Instructables.com.
His raw material is old tech detritus – decrepit mobile phones, broken printers, unusable iPods, dusty digital cameras, and the usual collection of cables and wires – and from these unpromising beginnings he shows how to finish a number of interesting projects.
For example, how about a DIY digital projector, a portable amplifier, a keyboard lamp, or mobile phone torch? Or even an iMac Terrarium or a flat-screen ant farm? Not forgetting a RAM money clip or a USB desktop fan!
Looking through it, it looks an excellent book, with project steps clearly laid out on the page, and it's packed with content rather than whitespace fluff. It might be aimed at a young readership, but it doesn't seem dumbed down.
The publishers blurb says:
Created by a Parsons design graduate who's obsessed with navigating the intersection of art and technology, here are 62 ingenious projects that are irresistibly geek-chic. An iMac Terrarium – how cool is that? A laptop Digital Photo Frame. The impressively green Scanner Compost Bin. Plus a power strip Bird Feeder, Walkman Soap Dish, My First Squiggle Bot, Qwerty Hair Tie, Flat-screen Ant Farm. Each project has complete, step-by-step instructions, is rated by difficulty – in a thorough first chapter the author covers all the tools and skills needed to take apart electronics safely – and is arranged by use, from stuff for the house, to fashion, toys, arts and crafts, items for pets, and more.
Published by Workman Publishing it will set you back £6.99 on Amazon.
If you want a small taster, you can view a few pages of the book, courtesy of Amazon's 'Click to look inside' system.