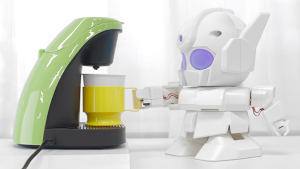 The Japanese robot kit comes complete with an Arduino-compatible servo controller (it has a total of 12 servo motors: one for its neck, one for its waist, four for the two feet, and six for its two arms).
On the KickStarter crowdfunding website, the company writes:
RAPIRO: Looks small, acts large, its limitless possibilities all depend on how you program it.
Low cost, 1/4th the price of current aesthetic robot kits.
Low cost, 1/10th the price of current linux-powered humanoid robot kits.
Comes with 12 servo motors and full-color LED of eyes.
Easy assembly. Anyone can assemble a RAPIRO with only a screwdriver, without the need for any soldering.
The servo control board is programmable and is completely compatible with the Arduino.
Designed to mount the Raspberry Pi and Camera module in the head.
Designed to mount a PSD distance sensor and speakers
We plan to publish our sample code and 3D data openly for community customisation.
It has currently raised £52,273, from 284 backers, exceeding its £20,000 goal.
Check out the video below showing the mounting of a Raspberry Pi camera module onto Rapiro:
httpv://youtu.be/V-KyBbOLMx0
More information can be found on the Rapiro website »
[Via Mashable.com]