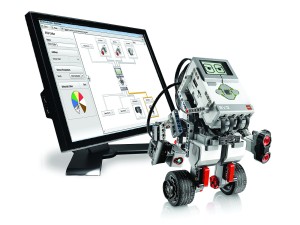 Well, National Instruments has announced that its powerful design software, LabVIEW, is now fully compatible with LEGO Mindstorms EV3. The LabVIEW Module for LEGO Mindstorms is a free download, available for both education and retail purposes.
Basically, it works with a wide range of sensors, devices and systems, and can support the quick design of relatively complex robotics projects, hence the connection with STEM education….
"I use LabVIEW in my computing classes because it's industry standard software, but also because it's accessible to such a wide range of students, including those who have difficulty with reading and writing," said Rob Torok, Mathematics and Robotics Instructor at Claremont College in California.

"The added EV3 support means my students can continue using LabVIEW in their robotics projects, which is great."
NI highlights that the software included with LEGO EV3 products is created by NI and is based on LabVIEW, and that users can extend functionality further via the industry version of LabVIEW.
Apparently Chris Rogers, a professor at Tufts university, who worked with The LEGO Group and NI to develop ROBOLAB (the language that inspired NXT-G and LabVIEW for LEGO Mindstorms) still uses a robotics approach to teaching science and mathematics in his classrooms:
"I use the LabVIEW Module for LEGO Mindstorms to start my robotics students off in the world of LEGO where they can see success easily and quickly, and then smoothly move them into the more advanced world of Linux microprocessors, FPGAs and even robot operating systems," said Rogers.

"We work with local high school students to help them develop complex code – from PID controllers to using different architectures for parallel thinking."
Read more at http://k12lab.com/node/54