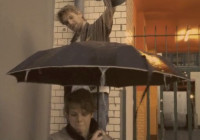 An umbrella that sings in the rain has been demonstrated by Alice Zappe and Julia Lager of Berlin. They taped piezoelectric sensors to the underside of an umbrella and connected them to an Arduino Uno microcontroller on a circuit board containing an 8-bit tone generator which generates a musical note determined by which sensor has been hit by a raindrop, writes Richard Wilson.
The circuit board is connected to two speakers.

The Arduino Uno is based on the Atmel ATmega328 32-bit microcontroller, with 32kbyte of flash memory, 2kbyte of SRAM and 1kbyte of EEPROM.

The microcontroller has to be programmed to deliver a pleasingly-timed series of notes rather than a mad cacophony if the umbrella is hit by a sharp rainstorm. Even so, it can get annoying after a time, says Zappe.

Zappe and Lager made the singing brolly in a day and are now working on Version 2.

The successor to Uno, the Leonardo AVR development board from Arduino, will be seen on the stand of Mouser Electronics at Electronica next month. Arduino Leonardo AVR Development Board is based on the Atmel ATmega32u4.

This processor also controls the USB communication, which helps to reduce the cost by eliminating the additional processor, said Gianluca Martino, co-founder of the Arduino Project.

It includes 20 digital IOs, a 16MHz crystal oscillator, a micro USB connection, a power jack, an ICSP header, and a reset button.

The Leonardo differs from preceding boards in that the ATmega32u4 has built-in USB communication, erasing the need for a secondary processor.

This allows the Leonardo to appear to a connected computer as an HID, such as a mouse or keyboard, in addition to a virtual (CDC) serial/COM port.

"Arduino has created a simple, yet powerful development board that is destined to become a favourite for programmers," said Russell Rasor, Mouser vice-president of advanced technology.

"Leonardo combines two functions into a single processor, allowing for greater flexibility in its communication with the computer. It will save design engineers valuable design time and money as it comes with everything ready to support the microcontroller," said Rasor.