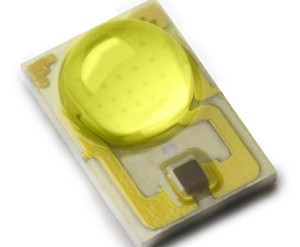 Efficacy is the highest yet from Lumileds – over 200 lm/W at the top end of the highest bin – attributed by the company to lime being close to 555nm, the wavelength that human eye cones are most sensitive to. The data sheet specifies Lime as 567.5nm dominant wavelength (566-569nm). Lumileds green is 530nm (520-540nm).
There is a lot more information in this Lumileds Lime story on Electronics Weekly's main site.
What is puzzling me is, what is the technology inside this LED.
Greens are notoriously inefficient, and Lumileds is happy to make light direct fron an LED die, or through phophor conversion – It actually makes amber LEDs using both direct and converted die.
Mining the data sheet is tricky because Lumileds specifies some die at 350mA, some at 700mA, some at 25°C, and some at 85°C.
From the curves, is shares characteristics with both direct and converted die, and the forward drop is lower than both blue and gree, while you would expect it to be between them if they are all GaN.
I have emailed Lumileds, and await a response.
Expect this blog to get longer as the data sheet reveals its secrets.
Is this a blue die with a phosphor, or a direct-emitting die? – deer stalker on.
Sometime later, having trawled the graphs on the data sheet, I think the following is true:
Rebel LED

Vf

350mA 25°C

relative light

25-100°C

relative light
350-700mA 25°C

deep red 655nm

2.17

0.8

1.95

red 627nm

2.08

2.92

0.6

1.9

1.6

red-orange 617nm

2.08

2.92

0.4

1.9

1.6

amber 590nm

2.92

0.25

1.6

pc amber 591nm

3.04

0.88

1.8

lime 567.5nm *

2.84-2.96**

0.88

1.91 (85C)

green 530nm

2.90

086

1.8

cyan 505nm

2.90

0.86

not on graph

blue 470nm

2.90

0.94

1.67

blue (ES) 470nm *

2.78

0.94

1.85

royal blue 447.5nm

2.90

0.92

1.54

royal blue (ES) 447.5nm *

2.78

0.92

1.85
The whole table is repeated below with the LED part numbers
*All die 1mm2 except ES and Lime which are 2mm2
** calculated from 2.72V at 350mA 85°C, and -2 to -4mV/K. All from data sheet
pc = phosphor converted – pc amber is a GaInN die with a phosphor
– interestingly, there is no trace of a blue bump in the spectrum above.
AlInGaP is used for the first four, and GaInN for the rest – probably
Oh dear
I am not sure the table reveals much, to me anyway.
Vforward is in sequence, give or take, and the anomaly is more the high voltage of the direct-emitting amber than anything to do with the lime. So lime could be direct or converted.
From the graph above, the lime spectrum is wider than PC amber – which hints that it might be converted.
The photos looks like it has a phosphor layer.
Light variation as current changes is better for Lime than the other GaInN types – although this could be the higher temperature.
OK, I give up.
My wild guess is that PC amber and Lime are phosphor-converted cyan leds.
Anyone know?
 Stop press..
Lumileds has replied.
I was half right, but so much for my cyan speculation.
"This is GaInN (we usually say InGaN; Royal Blue) die+phosphor," said a spokesman. "Royal Blue pump, same die that is used to make White LEDs."
The table complete with part numbers is below:
Rebel LED

Vf

350mA 25°C

relative light

25-100°C

relative light
350-700mA 25°C

deep red 655nm

2.17
LXM2-PH01

0.8

LXM3-PD01

1.95

LXM3-PD01

red 627nm

2.08
LXM2-PD01

2.92
LXML-PD01

0.6

LXML-PD01

LXM2-PD01

1.9

LXM2-PD01

1.6

LXML-PD01

red-orange 617nm

2.08
LXM2-PH01

2.92
LXML-PH01

0.4

LXML-PH01
LXM2-PH01

1.9

LXM2-PH01

1.6

LXML-PH01

amber 590nm

2.92
LXML-PL01

0.25
LXML-PL01

1.6

LXML-PL01

pc amber 591nm

3.04
LXM2-PL01

0.88

LXM2-PL01

1.8

LXM2-PL01

lime 567.5nm *

2.84-2.96**

LXML-PX02

0.88
LXML-PX02

1.91 (85C)
LXML-PX02

green 530nm

2.90

LXML-Px01

086

LXML-PM01

1.8

LXML-PM01

cyan 505nm

2.90

LXML-Px01

0.86
LXML-PE01

not on graph

blue 470nm

2.90

LXML-Px01

0.94
LXML-PB01

1.67

LXML-PB01

blue (ES) 470nm *

2.78
LXML-Px02

0.94
LXML-PB02

1.85

LXML-PB02

royal blue 447.5nm

2.90
LXML-Px01

0.92
LXML-PR01

1.54

LXML-PR01

royal blue (ES) 447.5nm *

2.78
LXML-Px02

0.92
LXML-PR02

1.85

LXML-PR02