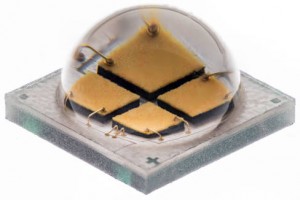 Like the original single die XM-L2, bins are available to deliver more than 1,100 lm from a 5x5mm package – so one can be used in an LED replacement for 50W halogen bulbs.
EasyWhite branding indicates colour binning tighter than Cree's usual bins – in this case "designed to emulate the appearance and match the color consistency of halogen lamps", said the firm. Bins are 2-step and 4-step MacAdam ellipse.
Characterised at 85°C, the four die XM-L2 EasyWhite is available with 80 and 90 CRI options, and 5,000 to 2,700K colour temperatures.
The die are the same as those in the firm's 1.6×1.6mm XQ-E, it told Electronics Weekly.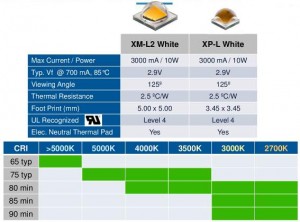 Two die interconnection options are available, giving nominal forward voltage of 6V or 12V.
"Lighting manufacturers seeking Energy Star qualification can take advantage of the XM-L2 EasyWhite LED's 'successor' status to the XM-L EasyWhite LED and use 3,000 hours of LM-80 data.
This LED was announced hot on the heels of a 200 lm/W led in the firms smaller XP package – called the XP-L – see comparison left. More on XP-L on the Electronics Weekly news site.
The single die XM-L2 was announced late in 2012, rated at up to 1,198 lm and 116 lm/W at 3A (at an uncharacteristically low 25°C).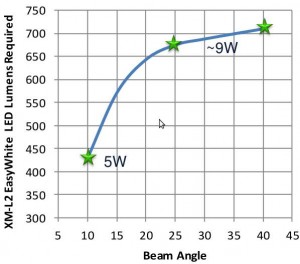 Modelling suggests an XM-L2 could deliver a 10deg 430 lm MR16 bulb at 5W and a 680lm 25deg or 710 lm 38deg or  MR16 for around 9W. "We have not built this exact thing yet, but we have built enough lamps to see this is extremely feasible," said Cree.
For these models, the lenses chosen were: Gaggione LLC49N 45mm dia), Carclo 10393 (26.5mm), and Ledlink LL01ZZ-AHZ38L02 (22.2mm) respectively.