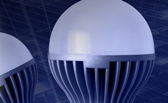 An LED-driver reference design for an LED replacement of 100W  incandescent bulbs has been introduced by Power Integrations, writes Richard WIlson.
Dubbed DER-322, the circuit is desigend to fit neat inside the A19 form factor, is EN61000-3-2 C (D) compliant and easily passes THD limits. With a PF above 0.95, it suits commercial as well as consumer applications.
"With an 8-10% efficiency advantage over older solutions, DER-322 provides a compelling option for lighting engineers working toward the landmark achievement of a commercially viable A19-sized replacement for the 100 W incandescent bulb," said Andrew Smith, product marketing manager at Power Integrations.
"With LED efficacies continuing to improve, this important milestone will soon be within reach," said Smith.
The design eliminates the need for short-lived electrolytic input bulk capacitors. 
The reference design incorporates a non-isolated, 93% efficient LED driver designed to drive a nominal LED string voltage of 78V at 230mA from an input voltage range of 195Vac to 265Vac (47 Hz – 63 Hz).
The LED driver utilises the very low-profile LNK460VG from the LinkSwitch-PL family of ICs from Power Integrations. 
Suitable for an A19 incandescent bulb replacement-driver but also reconfigurable as a T8 tube replacement driver, DER-322 is of interest to designers of both high-end LED lighting and those working on cost optimization of bulbs for retail sale. 
The engineering report for DER-322 is freely downloadable from Power Integrations website.