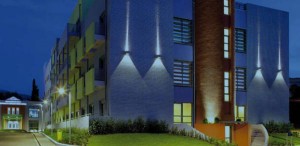 Ledil has come up with an interesting reflector for wall washing.
Called Blondie, it puts light in two opposing directions on the wall at the same time – take a look at the photo.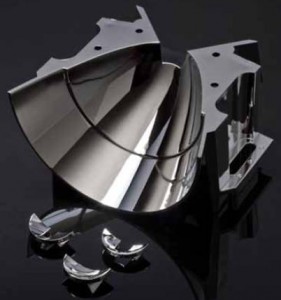 "Blade type wall grazing luminaires have become relatively common in outdoor architectural lighting. These are good choices for emphasizing details and adding structure for the buildings," said the firm. "Traditional ways to create this type of beams with cylindrical lenses are very inefficient. Ledil has created the Blondie reflector capable of producing the same type of lighting with a single LED source using only a few watts of energy.
The width of the narrow beam (down in the photo, up in the diagram below) can be set using three clip-in inserts that are supplied with the main moulding.
It attaches to a mounting face using M4 screws through two slots – one of which is visible in the photo.
As far as I can gather, the beam can be tilted into and away from the wall by 1° ether way depending on which part of the slot is used.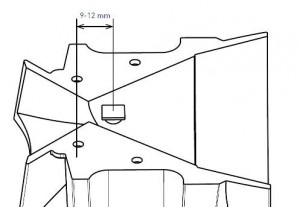 The LED/heatsink assembly mounts onto four holes (see diagram) with the led shining sideways into the throat of the reflector, spaced between 9 and 12mm from the rear mounting holes depending on the source size.
It is compatible with single and multi-crystal LEDs, from smaller than XM-L (9mm) up to MK-R (12mm).