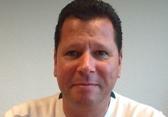 Uwe Jessen, European sales manager at Bergquist talks to Electronics Weekly about the automotive market and the ups and downs of the LED lighting market for the materials industry.  
Bergquist's thermal management materials are used in a large number of sectors (automotive, power supply, motor control, computer, etc). Does it make the company immune to economic woes and current market uncertainties?
Uwe Jessen: I would not say immune, no. If we run into a recession then usually all markets are going down at once. I'd say that our risk is better distributed because of the large number of sectors we are involved with, so an eventual decrease would not hurt so much.
The only exception I can think of might be automotive: it is a sector in which we are heavily involved, so if this market were to suffer it would hurt us more than any other market. But looking at current market forecasts, the automotive industry doesn't appear to be heading towards particular problems.
Your products are used by many OEMs – can you tell more about your existing client base?
Uwe Jessen: As is often the case across the electronics sector we have signed non-disclosure agreements (NDAs) with most of our customers. But in general we can say that our customer base includes all big electronics companies worldwide, in all market segments. It is a diversified client base so that definitely helps level market uncertainties.
In terms of new products what's in store in the near future?
Uwe Jessen: We do see a trend towards liquid materials, like Gap-Filling materials for instance. We can also see a trend leading to demand for higher thermal conductivity.
It is always important to anticipate market changes and respond accordingly. Historically, research and development has always been a key part of our corporate culture.
Looking at lights and LEDs, do you believe this area will deliver future growth? And do you plan to launch new products aimed specifically at this market?
Uwe Jessen: By looking to the current status I can actually see a decrease in demand for lighting technology, which may be the result in low cost built up and also a desire to save money on the part of local authorities.
But we do see a trend for automotive headlamps to provide growth in the future. More and more, these make use of LED technology.
We already have a good range of products to address these needs, like Thermal-Clad and especially High Power Lighting Dielectric (HPL).
When developing products are you targeting specific vertical markets, or do you aim to design products that will be used across multiple markets instead?
Uwe Jessen: Actually, most of our products are the result of a design co-operation with our main customers ensuring our products offer a perfect match to their application. In other cases the materials we'll have developed will follow overall market trends, so we will be able to sell them across different electronic market segments.
Unfortunately there is no obvious answer to this question. But in general, we find that working closely with our customers is the best way to meet their needs and is a path to growth.