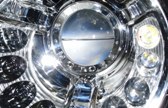 Buckingham-based Wipac has designed the LED headlamp in Bentley's 2011 Mulsanne, writes Steve Bush. The light is not all all-LED. Instead, eight power LEDs boost main beam mode from twin bi-xenon projectors.
The firm, now owned by LED lens maker Carclo, made its first vehicle light in the UK in 1948.
Its first solid-state car light was a 48-LED high-mounted stop lamp for Cadillac, way back in 1995, followed by one of the first multi-function LED tail lamps, for the Porsche Carrera GT in 2001.
Today, customers include Aston Martin, Audi, Bentley, Bugatti, Jaguar, Lamborghini and Rolls Royce.
See: LED headlights beam beyond premium cars
The use of LED headlights is expected to trickle down from premium cars, at least as an option.
"LED headlamps were first introduced in the premium segment, in vehicles such as the Audi R8, Lexus LS600H, and Cadillac Escalade," Lumileds spokesman Steve Landau told Electronics Weekly.
"Penetration has continued into higher volume premium passenger sedans, and most recently, penetration has begun in the hybrid electric vehicle segment with cars like the Mitsubishi MieV and the Toyota Prius. This trend is expected to continue into mainstream vehicles over the coming years."
Read the full article >>